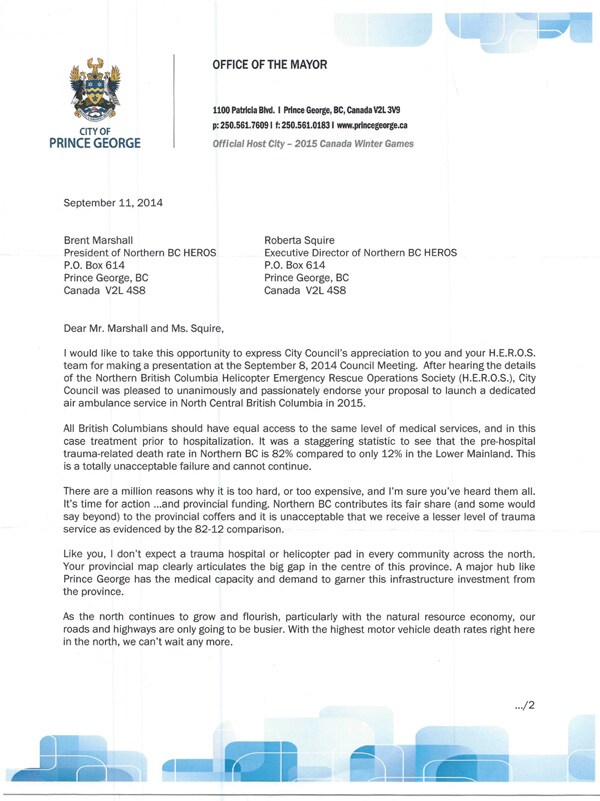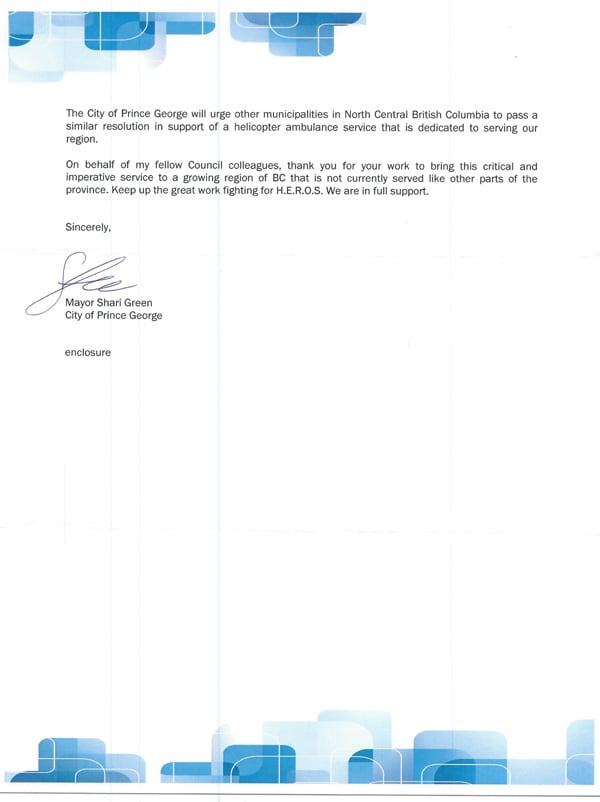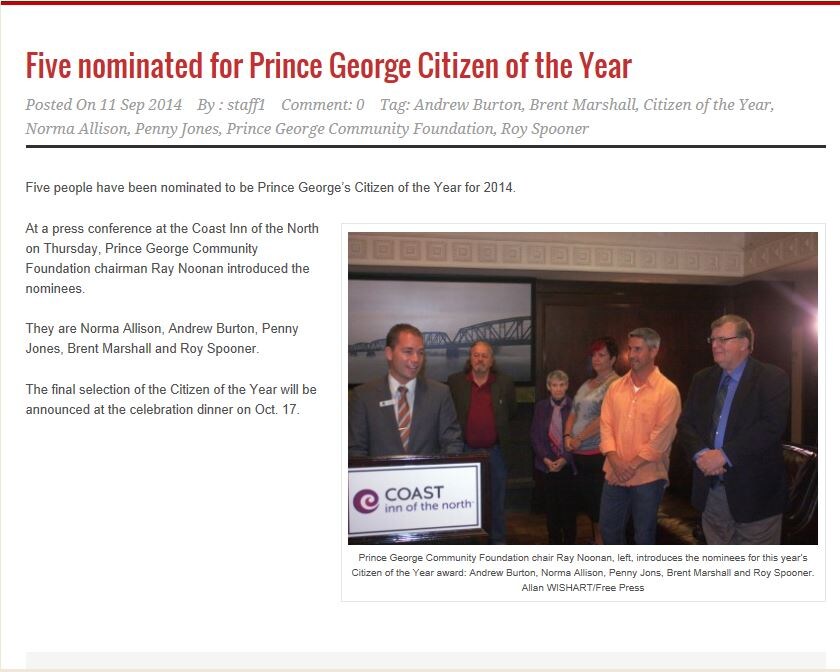 Hello everyone,
 Just wanted to take a minute to say "Thank You". Thank you for showing us why you are the #1 auto dealership in BC. Last November, we purchased a new Dodge Journey for my wife, we did a lot of research and felt that this was the best option for us, and one of the safer options for a 7 passenger SUV available on the market. Unfortunately, right of the get go, there were issues with the electronics, and the head unit on this new vehicle. We brought the vehicle in several times to have it worked on, but the issues were never resolved. Finally in early July, I was able to come in and speak With Ed Braconnier. We pinpointed the issue and it was resolved almost immediately, which allowed  my wife and 2 kids to head  off on their summer vacation. Ed even agreed to pick up the cost of 1 nights stay in a hotel so my wife could get on with her road trip the same day the head unit was repaired!!! Thanks Ed.  A week or so after that, Ed set up a meeting for me with Clayton Brandon and Jack Morris. I showed up about an hour early for the meeting and both gentleman were able to adjust their schedule to accommodate me. We discussed what went wrong with the vehicle, how it was resolved, as well as the misunderstanding regarding a GPS system being installed in my wife's vehicle. We came to an agreement, shook hands and I was able to leave Northland Dodge feeling really good about how the entire situation had been handled. I can't say enough how happy we are with the service we received from Northland Dodge.  I have no problem in recommending Northland Dodge to all friends and family. From the salesmen to the service department and up through the management, a first class operation through and through. Thank You!!!

Thank you!
Dear Brent,  
Chase and I want to thank you from the bottom of our hearts for flying us down to Vancouver to be with Myia, you are an amazing man and we truly appreciate it.  We are very pleased to say that she is doing well and is making a speedy recovery.  She actually has a birth defect on her C4 vertebrae and will now have to attend Vancouver Children's Hospital every 6 months to monitor her development, but at least now we know that its there and we can take all necessary precautions. 
Thank you again <3 
Fallon & Chase Sharpe
Learn to Fish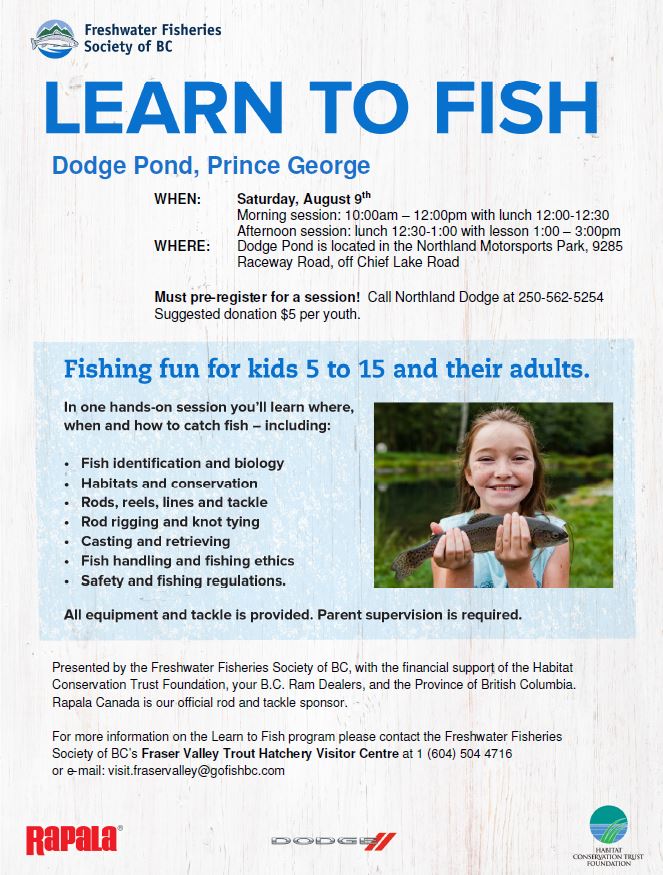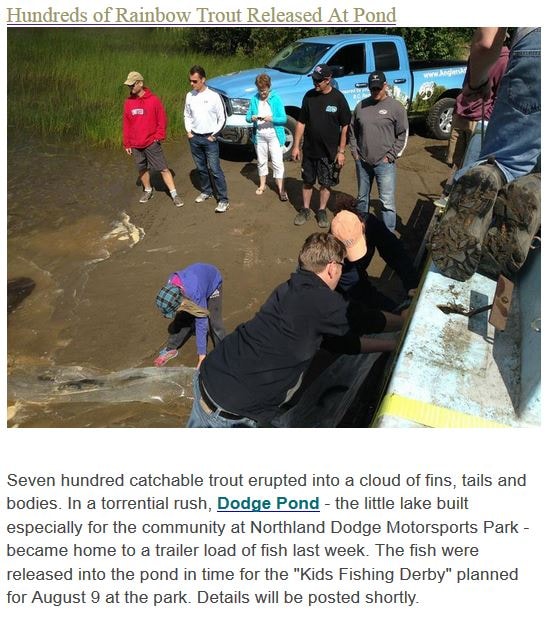 Big donation boosts Special Olympics effort
Big Donation Boosts Special Olympics Effort
Click Image Below to Read Full Article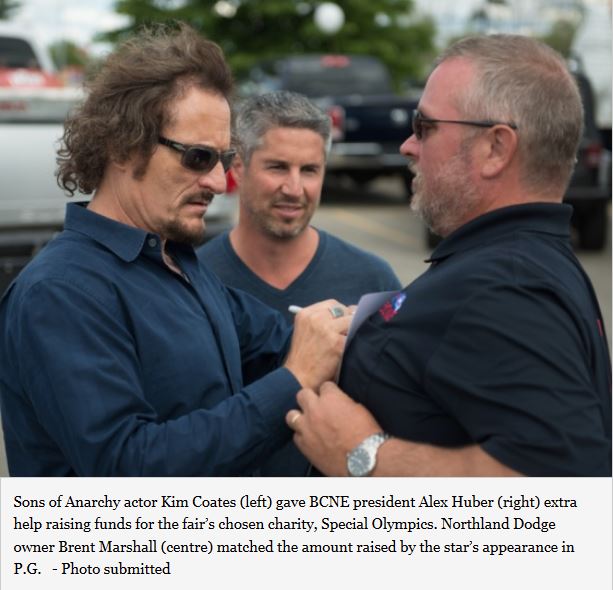 Big donation boosts Special Olympics effort
A Very Special Thank You to Northland Dodge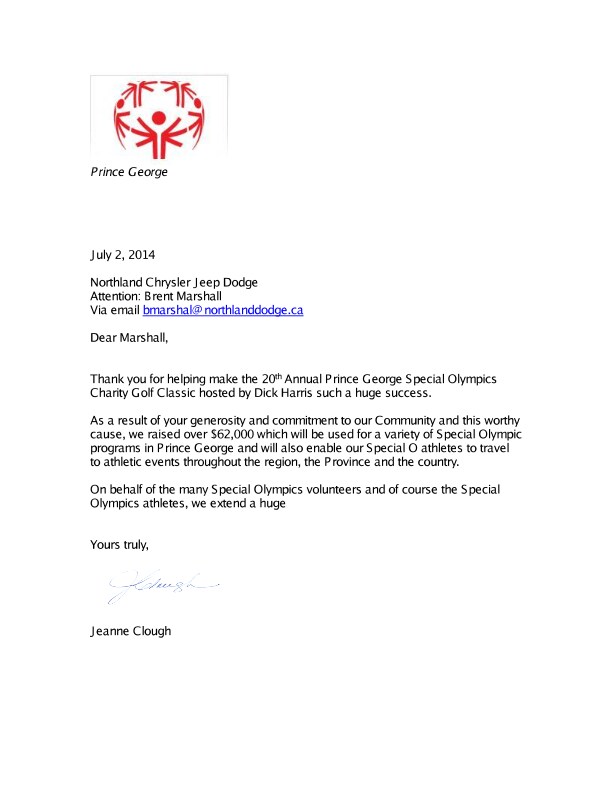 Thank You to Northland Dodge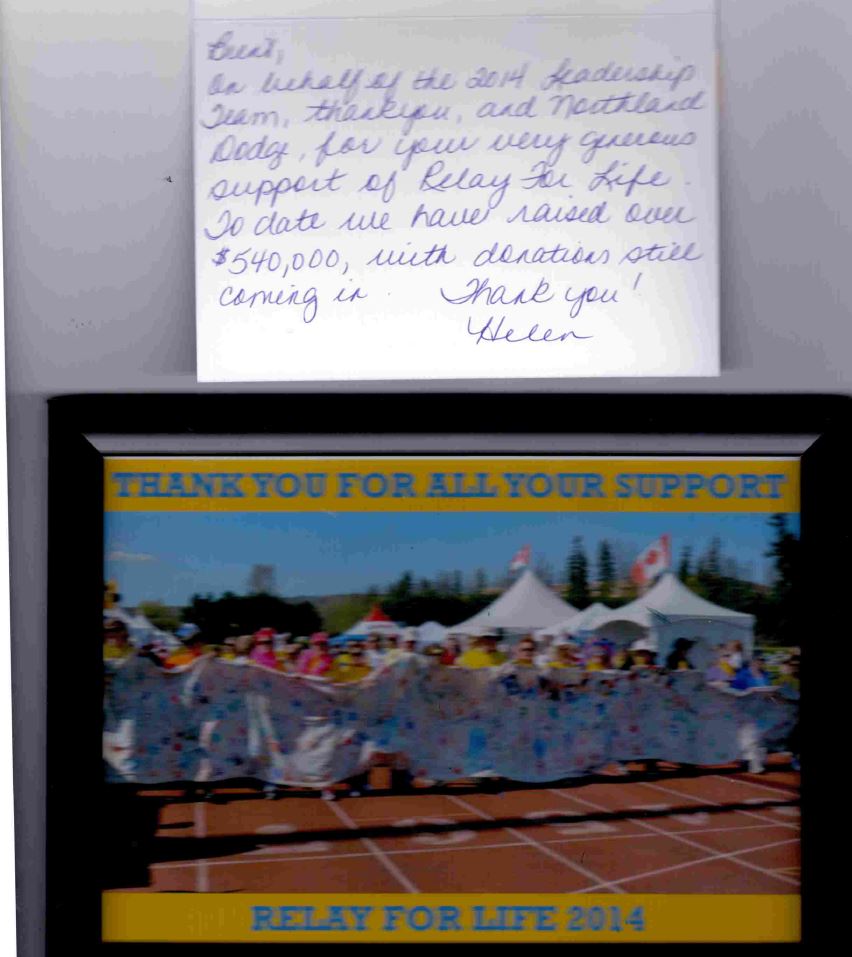 Northland Dodge to gives a lucky grad a new car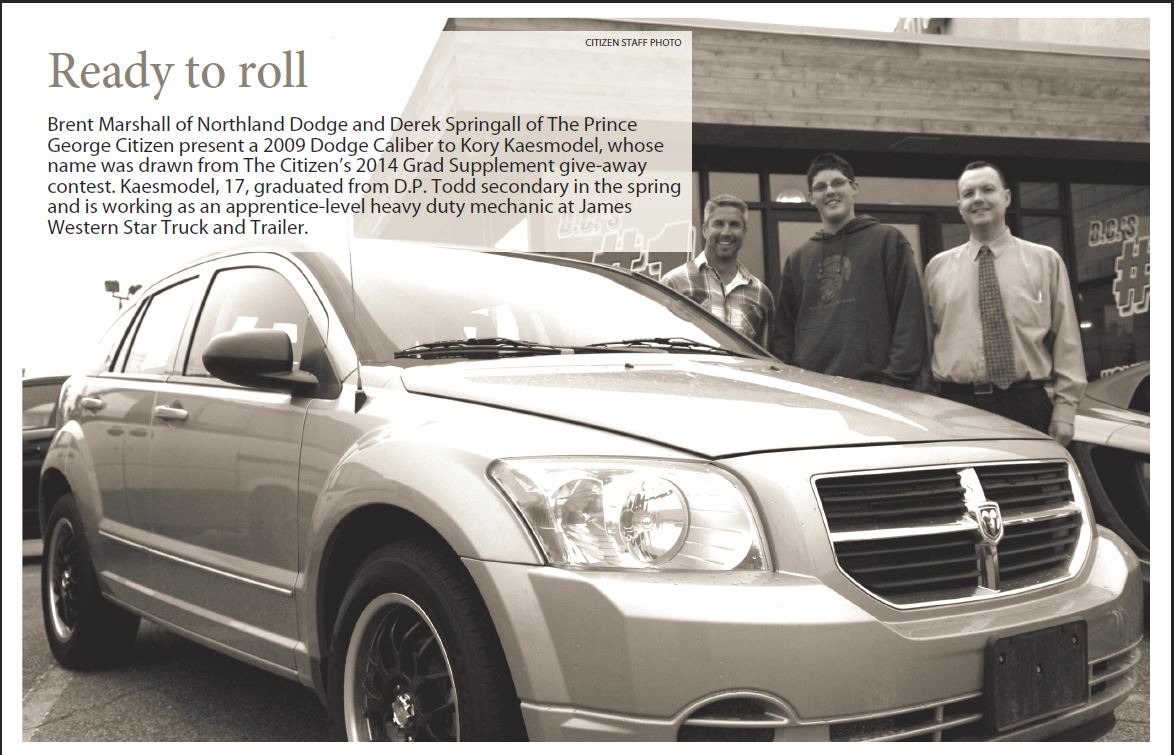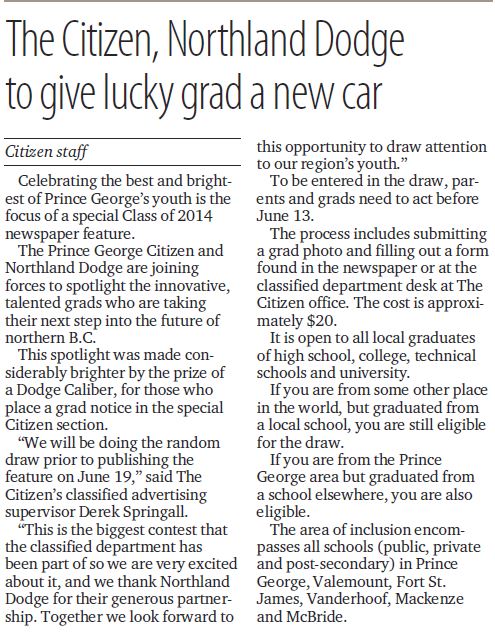 Drag Racing Revs Up New Season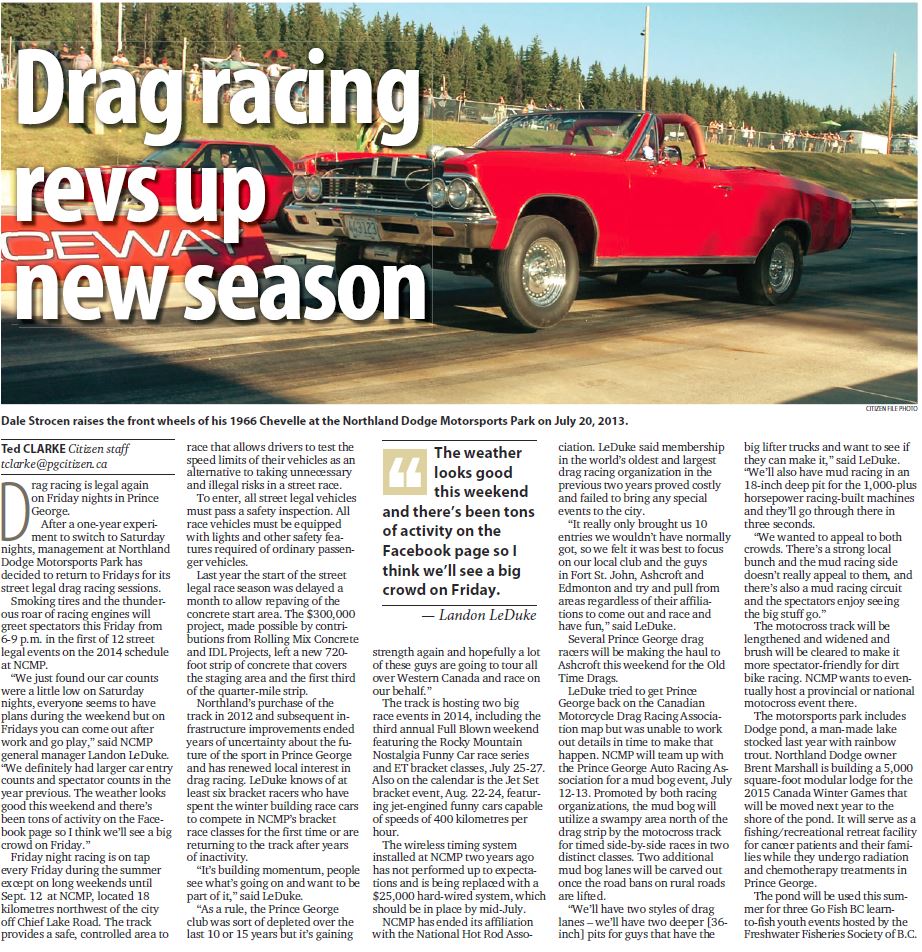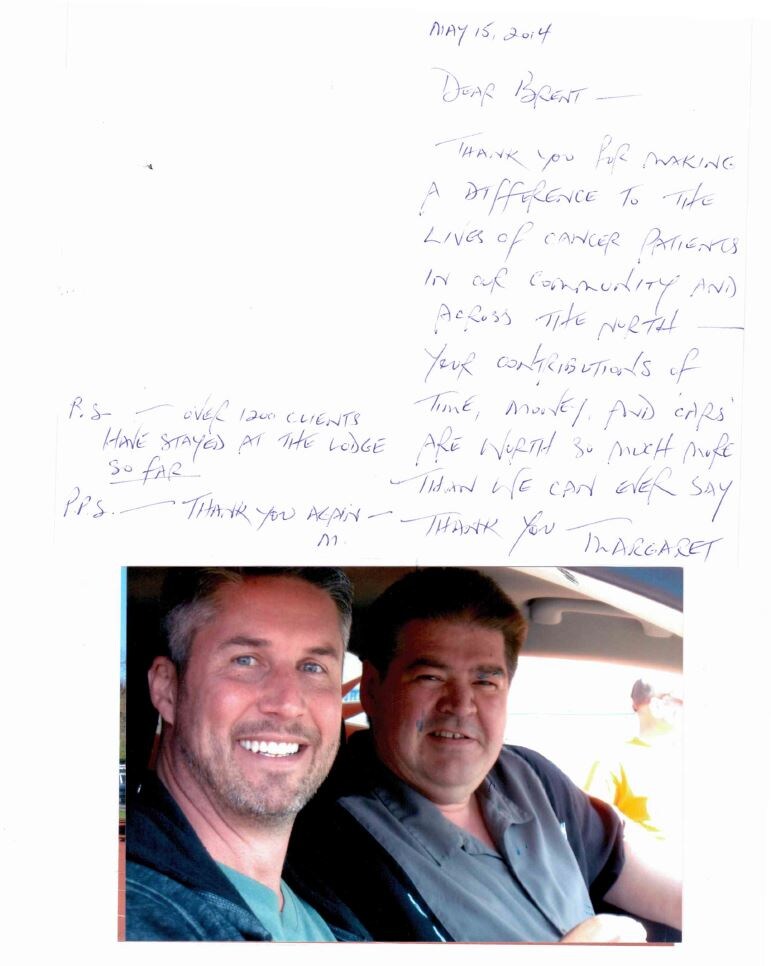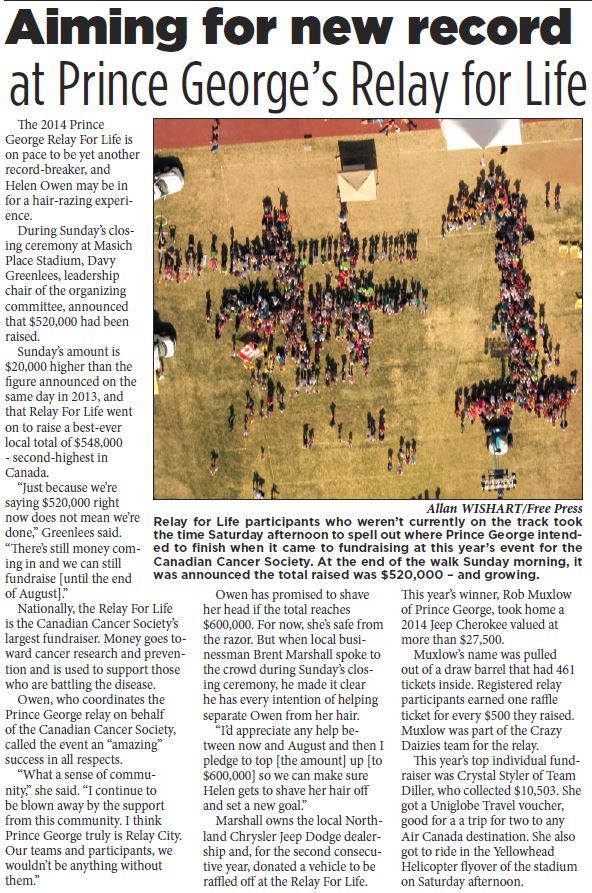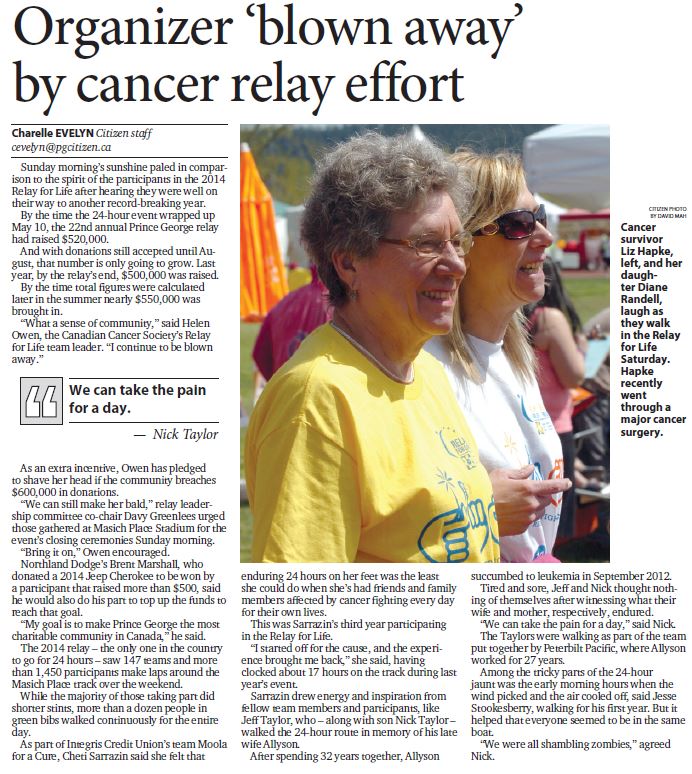 Participants from the Relay for Life's final lap gather to hear the fundraising tally  
Prince George, BC - One way or another, the 22nd Annual Canadian Cancer Society's Relay for Life will be a fundraising record-breaker for local organizers...
Last year, Prince George was the top relay in the BC and Yukon division, placing second in the country with just under $550-thousand dollars raised.  To the cheers of those who finished off this morning's 24-hour event, Relay Volunteer Committee Co-Chair, Davy Greenlees, announced the current tally of $520-thousand dollars.
The local relay had a goal at the outset of raising $525-thousand dollars, and raised that to $600-thousand at the start of the event yesterday - promising the Cancer Society's Team Lead for Community Giving, Helen Owen, would shave her hair if the mark was reached.
"We are well on our way to breaking yet another record here in Prince George," said Greenlees.  "Just because we're saying $520 right now, does not mean we're done.  There's still money coming in - you can still fundraise - we can still make her bald.  You guys into that?  Bring it on."
Donations made between now and the end of August can still be included in the 2014 relay's final tally, so Greenlees challenged those in attendance to ensure Helen receives a haircut.
Northland Dodge's Brent Marshall then guaranteed the clippers will come out by pledging to top up the August tally to the $600-thousand dollar mark. (Marshall shown in photo at right with Helen Owen)
"My goal is to make Prince George known as the most charitable community in Canada and, I think this is our year, Helen," he said to laughter from the crowd.  "I'd appreciate any help between now and August and then I pledge to top that up, so that we can make sure Helen gets to takethis off and set a new goal."
Marshall made the pledge just prior to the draw for the winner of the 2014 Jeep Cherokee that was donated as an incentive to relay participants - for every $500 raised, they had their names entered.  There were 461 entries.  Rob Muxlow of Team Crazy Daisies was the winner.  He had just left Masich Place stadium, after walking between 6am and 8am this morning.  His cousin, Susan Slater, was eventually able to contact him by cell to deliver the news.
There were 16 participants who committed to being at the track all 24-hours and they were honoured at this morning's closing ceremonies.
The group had been standing at the front of the stage and there was a bit of a scary moment, as one participant collapsed.  The young woman was quickly attended to and given some water.  Members of the crowd then jumped in to bring in chairs for the weary walkers and runners.
From the group of 24-hour relayers, Nick Taylor won the draw for a $250 Visa gift card from Huber Farm Equipment.  This is the second year the young man has participated around the clock.  Taylor lost his mom, Allyson, to leukemia in December of 2012.
There were 147 teams and 1455 participants walking and running the track at Masich Place Stadium this weekend.  U2's 'It's a Beautiful Day'played for the final lap...and it was...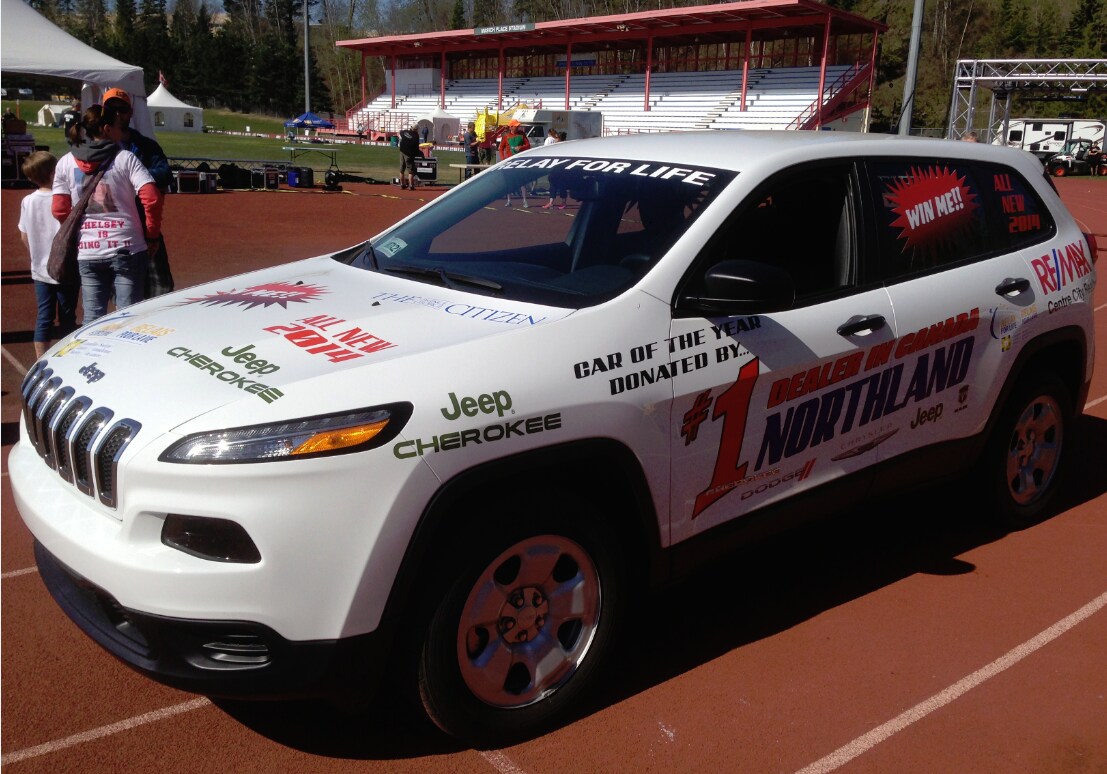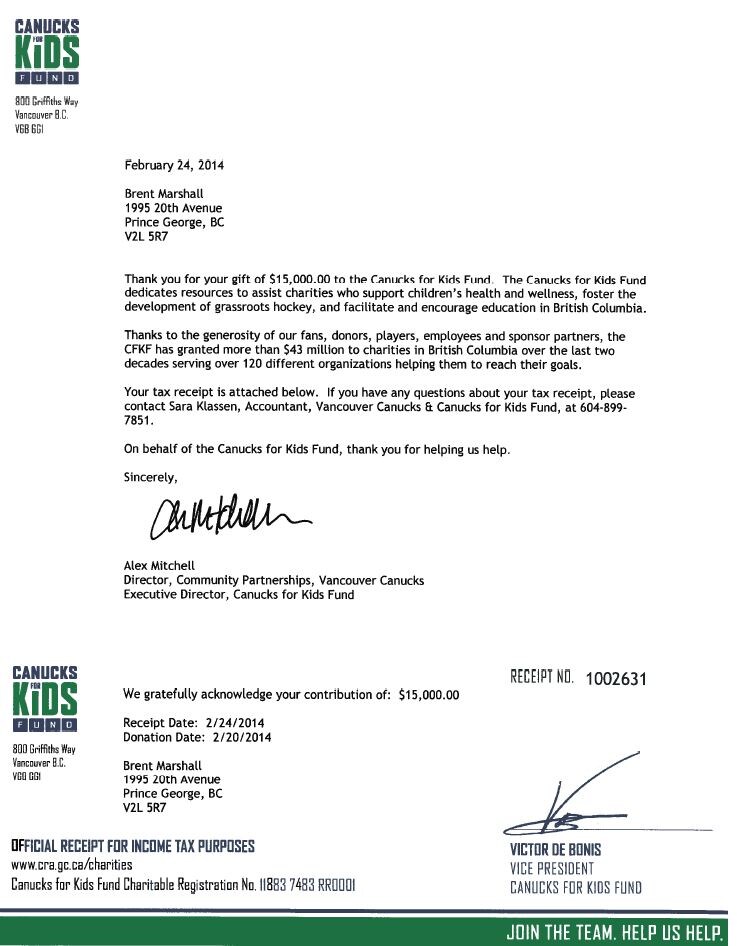 Cancer Fundraiser antes up with Vegas theme

Click
here
to read the complete article.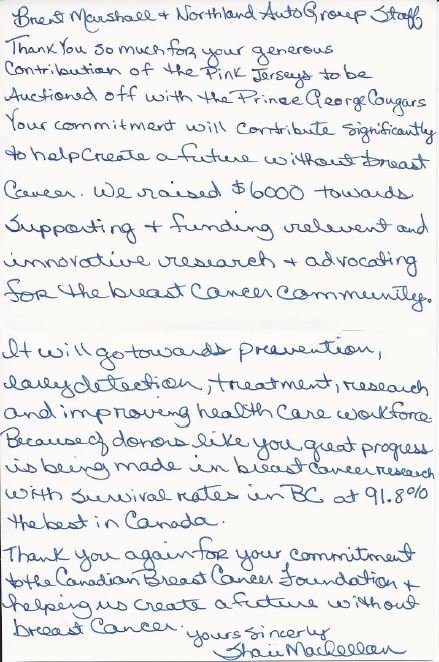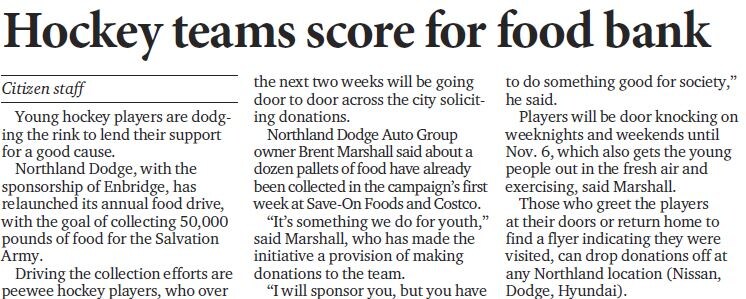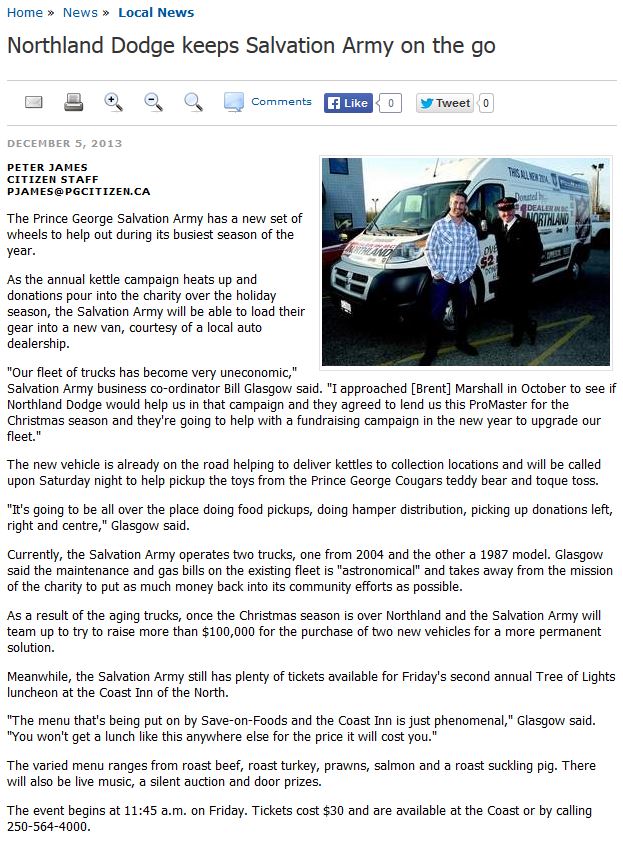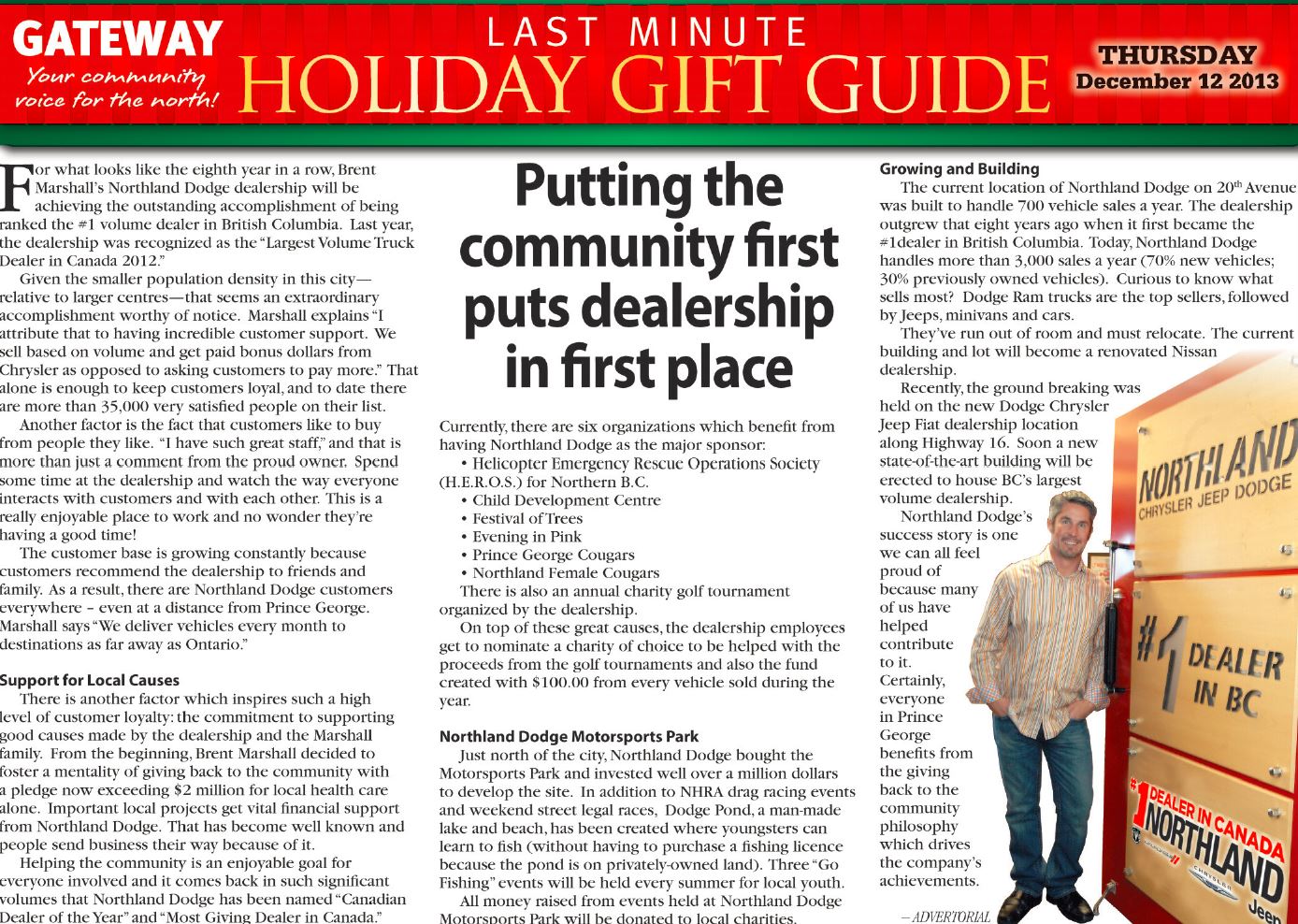 November 2013 Relay for Life
I just received the updated total for Prince George; we raised $548,986.11.  That is absolutely fantastic!!!  Thanks again for being a huge part of that. 
Helen Owen
Team Lead, Community Giving
Canadian Cancer Society, BC and Yukon Division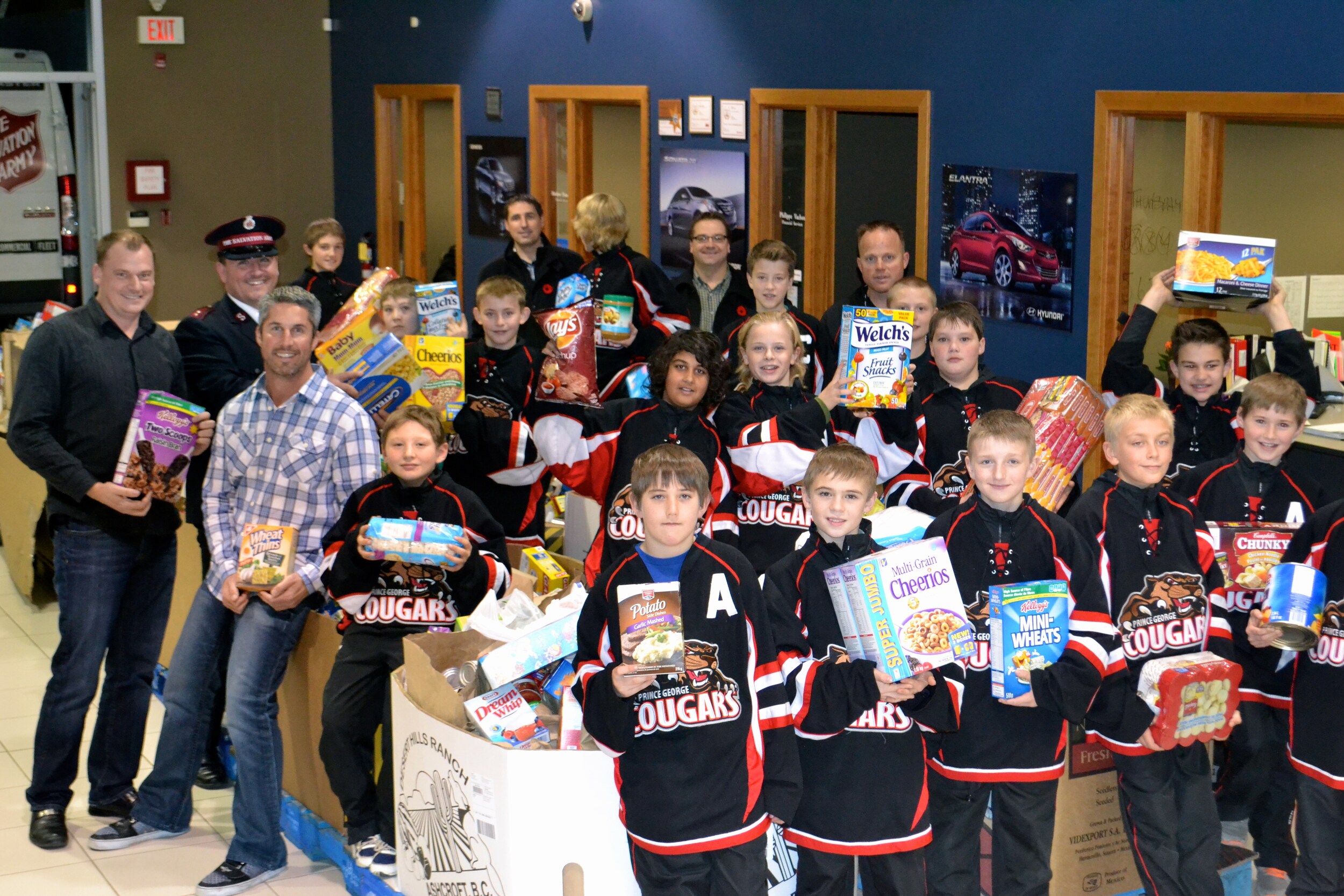 Giving Back
Click on the image below.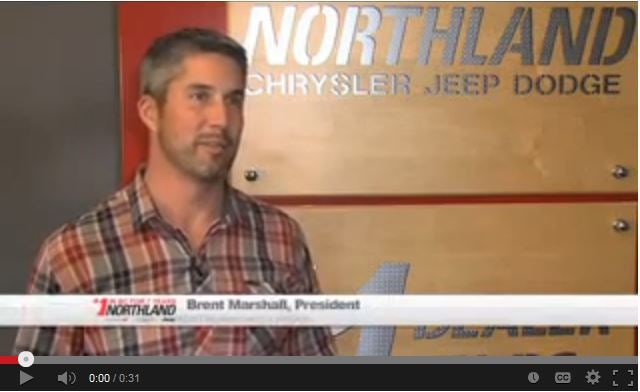 Food Drive with Tempest Group Inc.
Hi Brent,
This weekend's portion of the food drive was a great success.  The kinds were at both Save On (Parkland) and Costco.  We collected 11 pallet loads over the 2.5 days!!  The food is being moved down to Hyundai this morning.  As discussed it will be collected by the Salvation Army after picture taking on November 6th.  The next two weeks of week nights will see the kids continuing to hit the streets of our town going door-door.
Thanks again.  This is not possible without your generous continuing support!!!
Steve
Click here to read the article.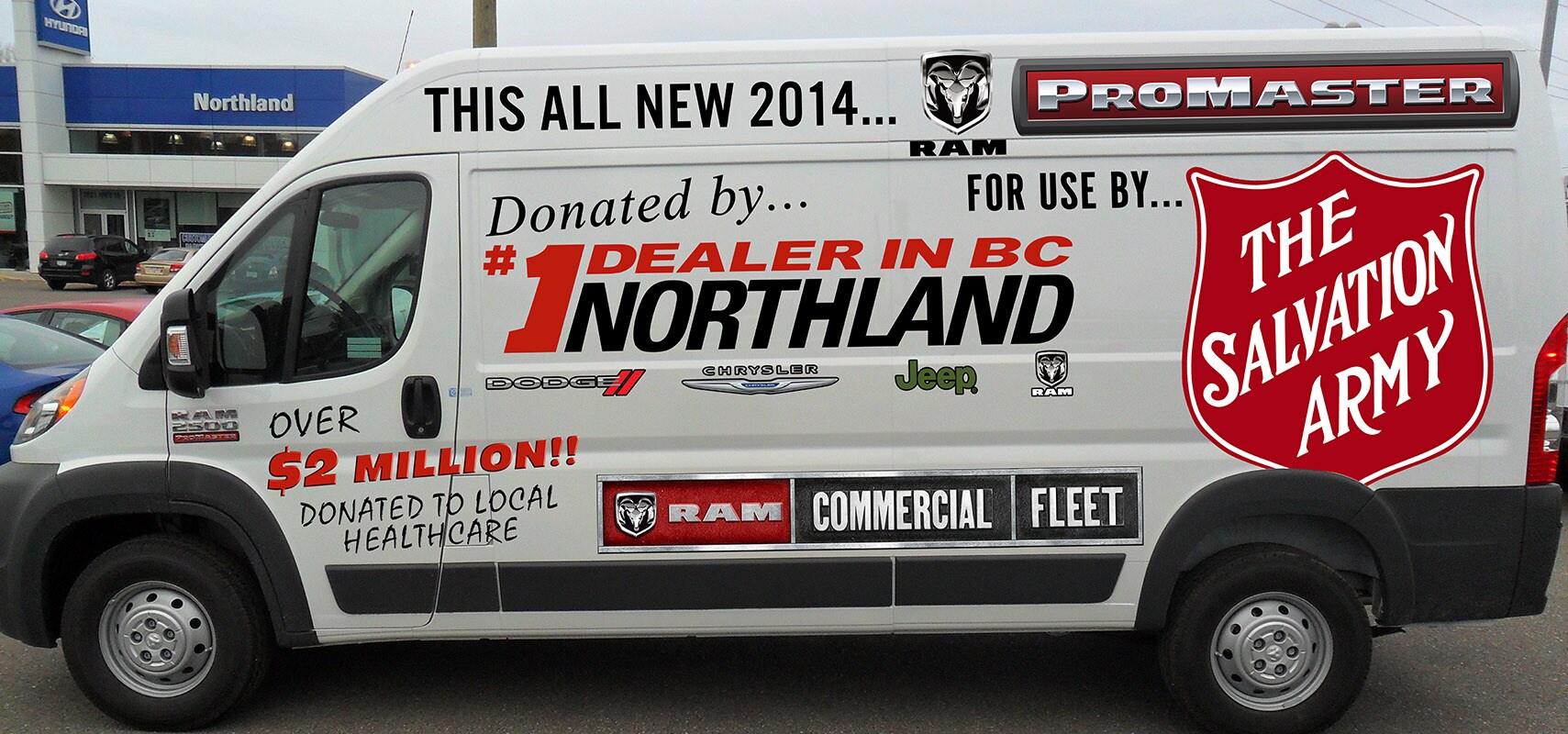 October


Name change brings luck to Northern Cougars
The name change seems to have brought about a win for the Northland Dodge Northern Cougars.  Read the article here.

Cops for Cancer
Thanks to all the riders who have committed to months of training and fundraising for this amazing event that supports pediatric cancer research, and support programs for children and their families going thought cancer (such as the driving program, the 1-888-939-3333 information line, and Camp Goodtime (www.campgoodtimes.org).
Thanks to our major sponsors: Tour sponsors Canadian Tire (in Prince George, Dawson Creek, Fort St John, Quesnel, and Williams Lake); Partner Sponsor Northline Credit Unions (The Credit Unions of Northern BC); Platinum Sponsors Northland Dodge, Cycle Logic, Pomeroy Lodging and Mr Mike's Steakhouse Casual; Gold Sponsors: Sandman Inn and Suites; Allwest Glass; Media Sponsors PG FreePress, 94X and the Wolf and CTV!
And thank you to all of the community business' and volunteers in the north that reach out and help as much as they are able to provide donated food items, meals, sound equipment, extra beds, etc. - all the little things that add up to the incrediable success of Tour de North!
Erin Reyonlds,
Community Giving Coordinator -
Cops for Cancer Tour de North,
Quesnel and Williams Lake Relay for Life,
Canadian Cancer Society - Northern Region.


September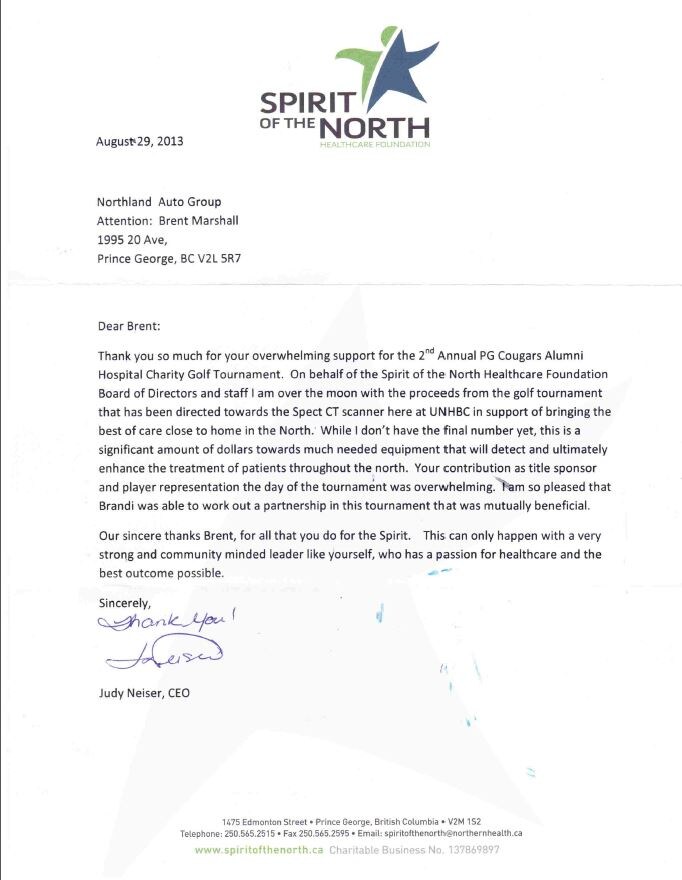 August

Articles from the Prince George Free Press and Prince George Citizen:

Hit the road with the Free Press
Someone who shops local will be driving some fancy new wheels later this year.
The Prince George Free Press launched a shop and win campaign in July, and advertising manager Roy Spooner says the prize is a great one.
"We will be giving away a silver Chrysler 200LX, fully loaded, from Northland Dodge Chrysler Jeep. It's been a long time since a car was given away in Prince George in this kind of promotion."
The car arrived within the past week and you won't miss it when you see it ? it's fully decaled. Free Press representatives will be driving the car to special events during the campaign, and it will also spend time parked at each participating merchant's location.
The format is simple. Each Friday for 20 weeks, two full-page ads will run in the Free Press with more than 30 local merchants who are involved in the promotion. Go to any (or all) of the merchants and enter your name in the draw box.
Each retailer will pick a name from the box each week and that person's name will go into the final draw from that retailer. The name will also be printed in the retailer's spot in the following Friday's ad.
At the end of the 20 weeks, each retailer will draw one 'key' name from the 20 finalists at their business.
"Those people will be invited to the wrap-up event, which will be held at Northland Dodge Chrysler Jeep," Spooner said. "Each person will get the chance to pick a key, and see if it's the one that starts the Chrysler LX200."
The Free Press campaign is good on a couple of levels.
"It's a great way to encourage people to shop local," added new Free Press general manager Ron Drillen, "and it's also a way for the retailers to have sort of a customer appreciation aspect. A lot of them wouldn't be able to do a contest with a car as the big prize."
Entrants must be 19 or over, and it is possible to have your name drawn at more than one retailer.
So it's a great opportunity for retailers to drive people to their businesses ? and a great chance for someone to drive off in a new car.
Cougars alumni to tee off
August 15, 2013
Current and former members of the Prince George Cougars hockey team will trade in their sticks for golf clubs today/Thursday for the second annual Northland Dodge Prince George Cougars Alumni Hospital Charity Golf tournament.
In 2012 the tournament raised more than $25,000 for Spirit of the North at the University Hospital of Northern British Columbia. One of the items purchased with the money was a Level 1 rapid transfuser for the emergency room.
Judy Neiser, the CEO of Spirit of the North, said after the explosion at Lakeland Mill in April 2012, last year's sponsor of the golf tournament, Telus, wanted the money from the event to go to something that would help in a trauma.
UHNBC received the new Level 1 rapid transfuser early in 2013, giving the hospital emergency room two machines. A Level 1 rapid transfuser warms the fluid, blood products or normal saline, as it's being put into the person to replace what they lost in a trauma. It's especially helpful for burn victims.
"One of the impacts from having a large burn is you lose the protective measure of your skin, which prevents heat loss and [the burn] also allows a lot of fluid to be lost," said Jim Fitzpatrick, manager of critical care services, including the E/R and ICU at UHNBC. "If you put cold fluid into a burn patient it can lead to more complications. So the rapid infusion of warm fluid into a burn patient is one of the quickest ways to get on top of that type of care."
Last weekend, the two rapid transfusers came in handy when the hospital received two trauma patients at about the same time.
"It provides a higher quality of care for both the patients that require it because you can't really use it on one patient and then move it over to the other one. It has to be cleaned," said Fitzpatrick. "Last year, when we just had one, if we couldn't get the one from the operating room (OR), we would prioritize and the person who needed it the most would get the Level 1. Now that we have two it just provides a bigger blanket of support for traumas that can come in with five minutes notice."
Meet Canucks D-man Dan Hamhuis
This year's charity golf tournament is today/Thursday and Friday at the Prince George Golf and Curling Club. On Thursday there's a silent auction and bidding on Cougars' alumni to golf in a foursome with the highest bidder. Alumni in attendance will be Dan Hamhuis, Brett Connolly, Nick Drazenovic, Garrett Thiessen, Dan Gibb, Brock Hirsche, Spencer Asuchak and many more.
The current Cougar players will also be in attendance as they enjoy a fun day of golf before getting down to business at Western Hockey League training camp starting Aug. 23.
All the alumni and current Cougars will be on the patio of the PGGCC today/Thursday between 4-5 p.m. for a meet and greet with the general public. The event is free and everybody is welcome.
Neiser said the support from the Cougars' organization to raise money for Spirit of the North Foundation is invaluable.
"Events like this shows incredible support from our sponsors, players and volunteers all resulting in Northern Health's goal in bring the best of care closer to home," said Neiser.


July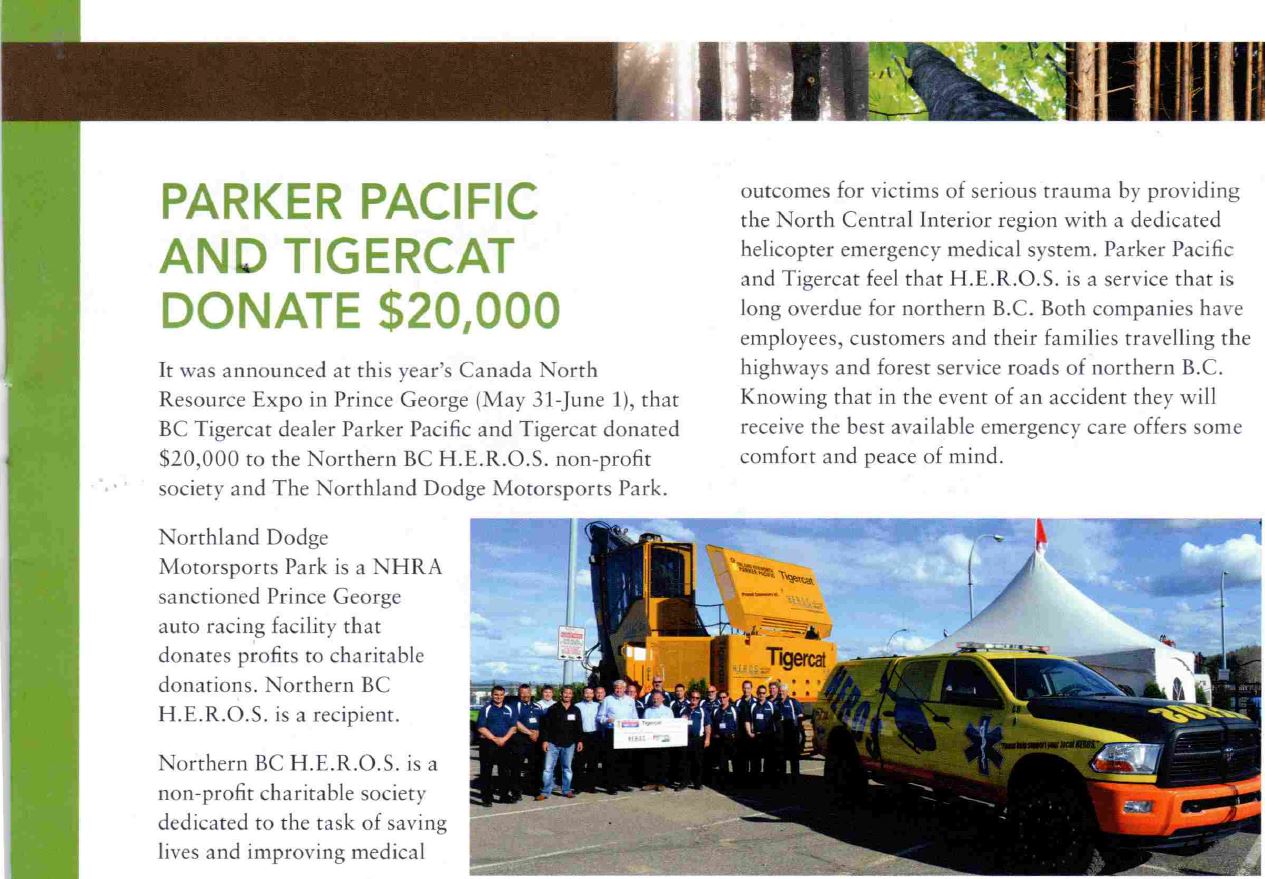 Some editorials on our infamous Northland Dodge Motorsports Park!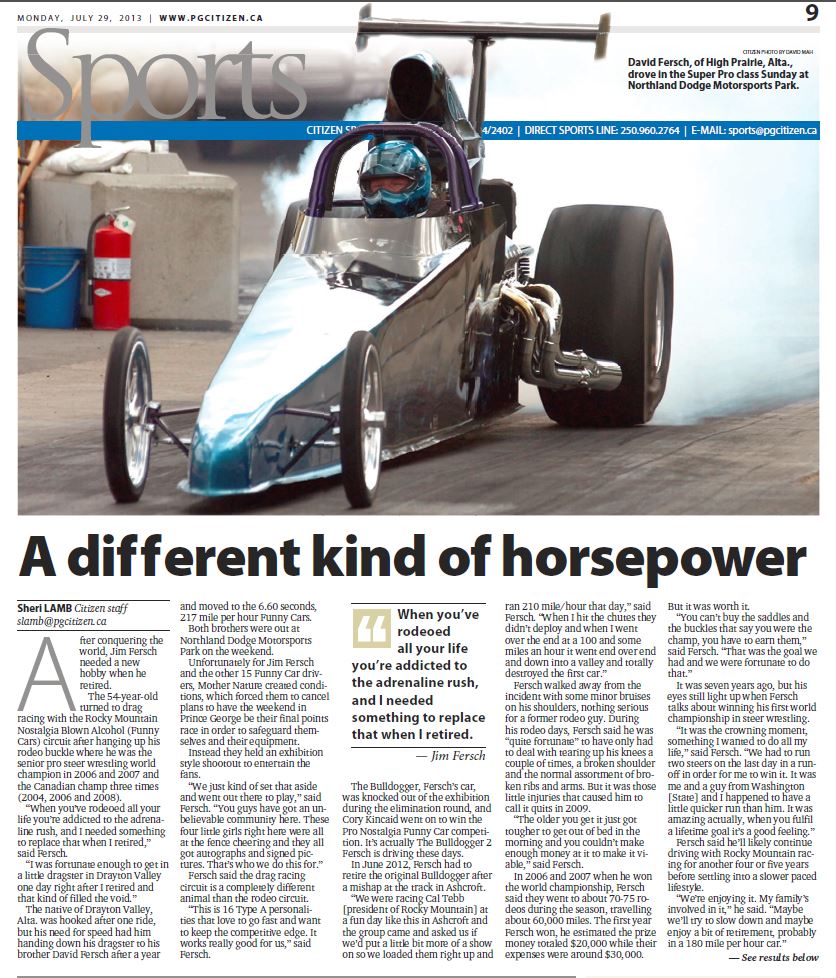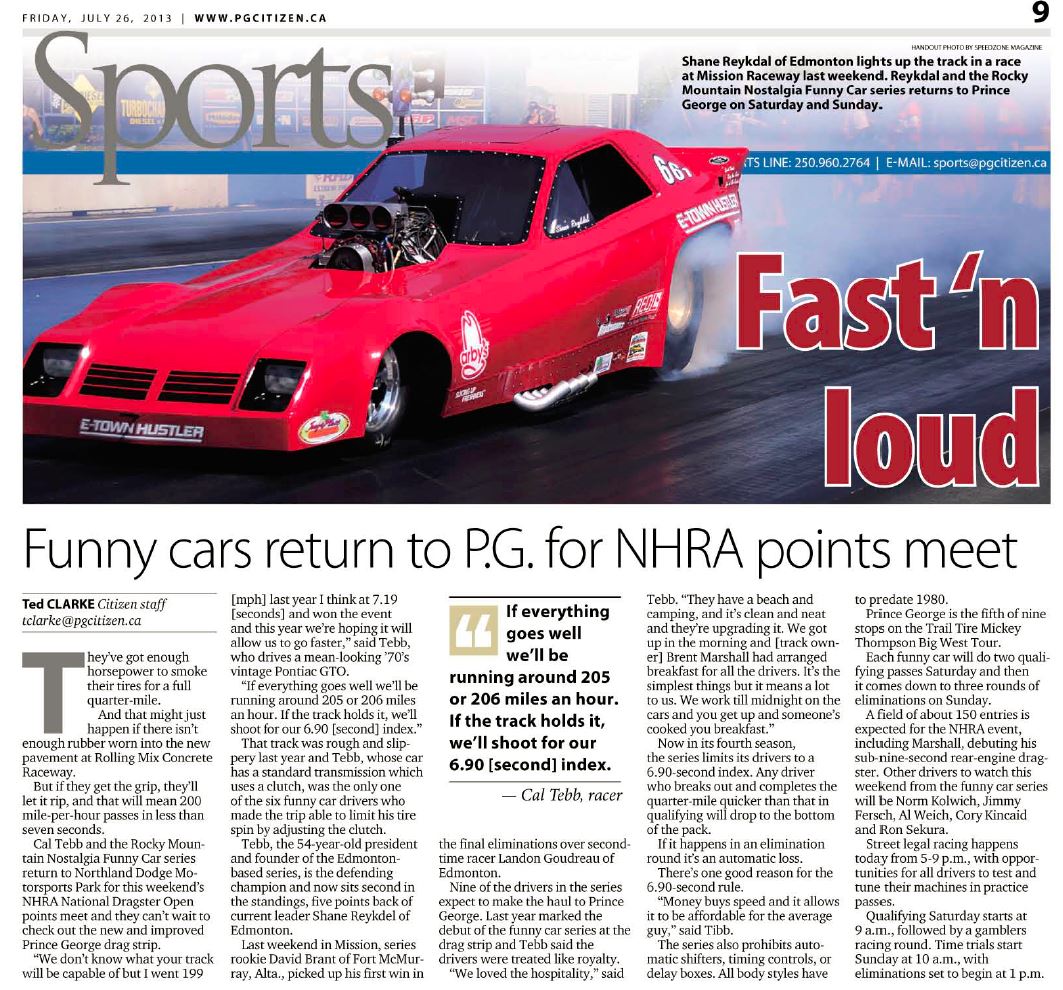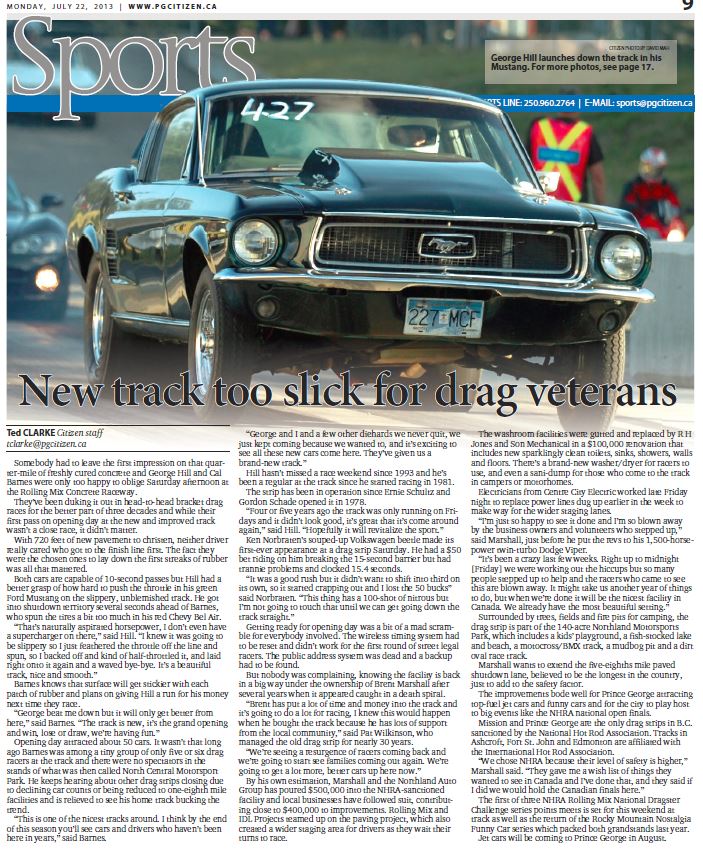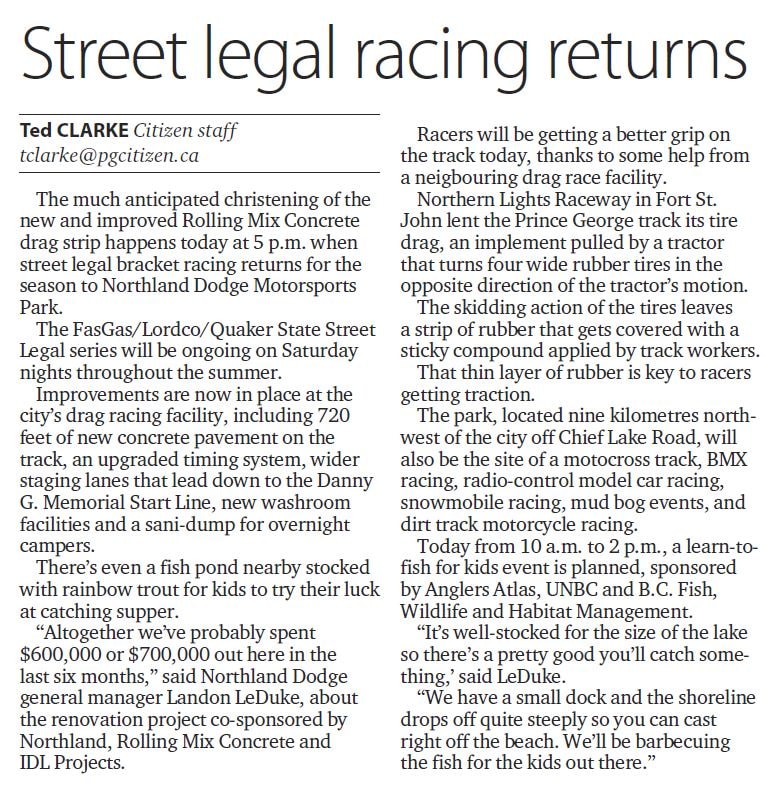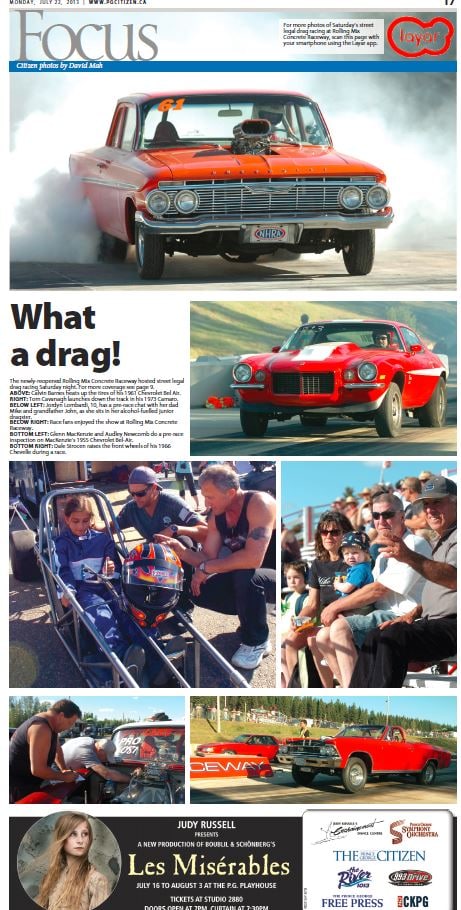 A nice letter from Johanna Hamblin :)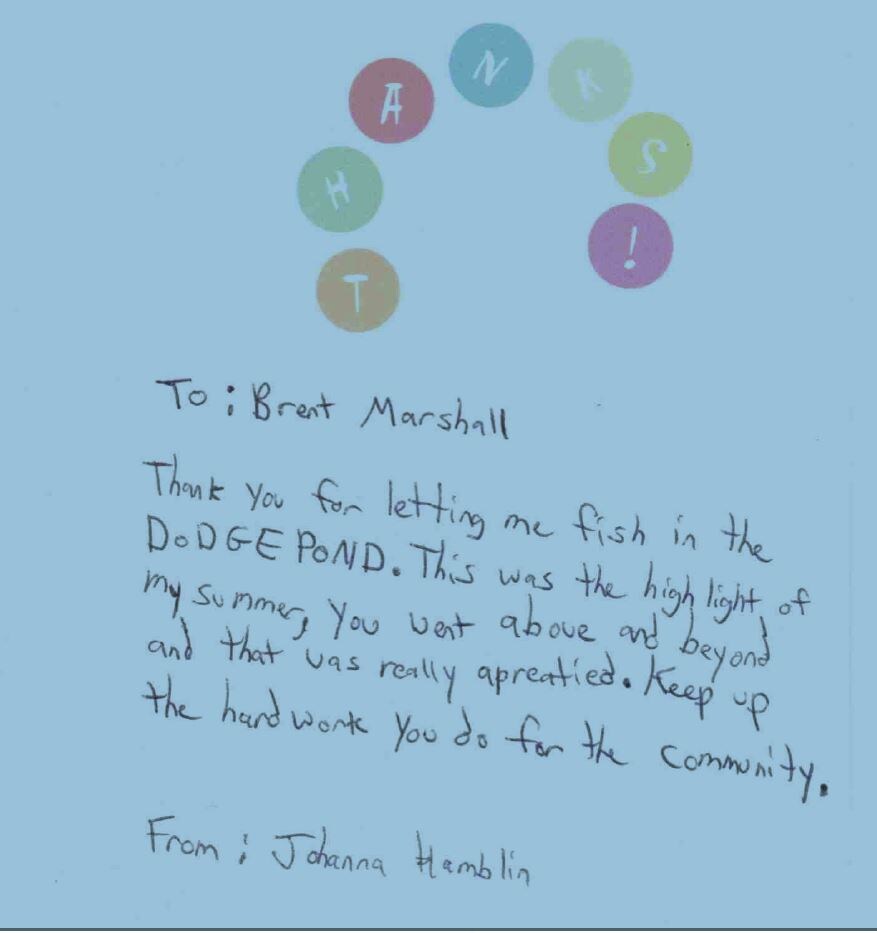 Relay for Life Best Ever for Prince George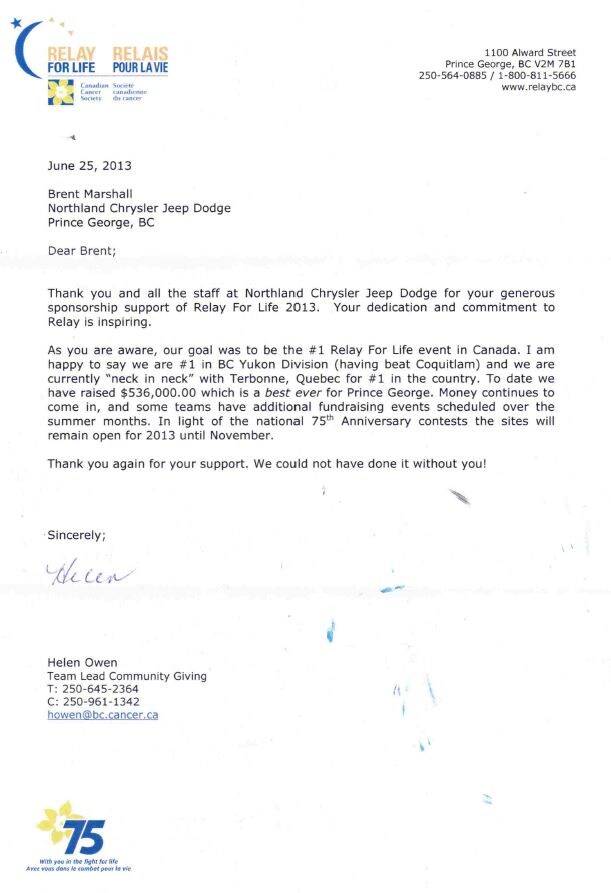 Relay for Life
We have surpassed the $515,000 mark making this the best ever Prince George event.  Northland Dodge was proud to have donated the car that helped achieve this amazing feat.  Below are some links to coverage of the event.
Our Solution to a Shortage of Skilled Workers
Please click on the image below to watch the CKPG News clip on our measures to address this problem.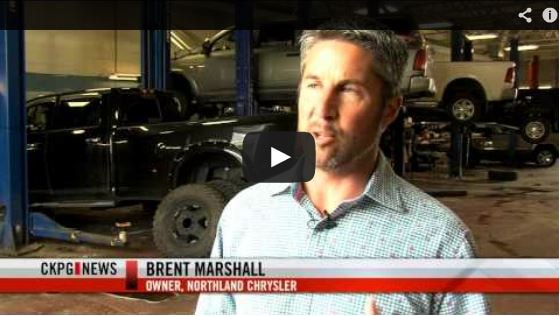 Top Story Segment on an Air Ambulance for the North
Please click on the image below to watch Global BC's Top Story on the need for an air ambulance in Northern BC.
  
Relay For Life prize sponsored by Northland Dodge
There's a new incentive for people participating in Relay For Life this year.
Team Lead Helen Owen says Northland Dodge has partnered with them to donate a prize.
"They are providing a 2013 Dodge...  Read more
Another Article: Relay for Life drive given an engine



Prince George Family Day Activities sponsored by Northland Dodge
Northern BC H.E.R.O.S Will Help Save Lives

Read the Northern BC HEROS Press Release
Courtesy of CKPG-TV: A recently-formed society has put the wheels in motion on a proposed service that could save lives in the North. It's something that is provided all through the province, except Northern BC, where it's needed the most.
Prince George Free Press articles
Dec 04 - Giving Tree
Dec 03 - Bea's Tree nets record donation at festival
Nov 30 - Golf Club Sells parcel
Nov 30 - Northland Buys Chunk of Golf Course Land
Organizations Team Up for Large Food Drive - via CKPG-TV
Prince George Citizen - Holiday Gift Guide cover page, November 2012
Northland Dodge and Cops for Cancer Ride
Prince George Pirates Food Drive


Northland Dodge helps endowment fund for the Canadian Institute of Mining

Pediatric Ward of University Hospital of Northern BC named after Northland Dodge donations
Prince George Free Press article
Prince George Citizen article
Article on Arbetov.ca
April 5, 2010: Photo Gallery of Truck Giveaway ceremony at Prince George Citizen
March 22, 2010: Prince George Citizen: The $1-million mark and video of truck winners
February 25, 2010: Prince George Citizen Article (PDF 1MB)
The Northland Dodge Healthy Childrens Fund, which has garnered national attention, has reached their goal of a one million dollar contribution. Funds will aid the development of new child-centered health facilities including pre-natal care, obstetrical care, neonatal intensive care and pediatric care.
January 2010 article: BC Auto dealer giving away up to $3 Million
#1 BC Dealer, Northland Dodge"
MVSA of BC on YouTube
The Motor Vehicle Sales Authority of BC has started a Social Media campaign to inform customers about buying from private sellers. Visit the MVSA on YouTube.
Crime Stoppers